NATO: practical steps
In what way is the Alliance going to respond to the challenge of Russia and what is it planning to do in cooperation with Ukraine?
The North Atlantic Alliance is initiating new reforms and expanding its zones of influence to counter terrorism and aggression. Meanwhile, Ukraine adopts the national program of cooperation with NATO, which will be a roadmap of sorts on the way to membership in this organization.
"We are modernizing the command structure so that all NATO member states could act as one unit – quickly and effectively," NATO Secretary General Jens Stoltenberg said before the meeting of NATO defense ministers held on February 14-15 in Brussels. The Alliance is planning to increase the number of command centers – for the first time since the Cold War time. At the time, the NATO structure consisted of 33 commands, and now there are only 7 of them left. But the security environment in Europe has changed, and so NATO is responding to the new challenges, trying to mobilize its actions and broaden its zone of influence. It is not known so far where the new centers will be located, but it is clear that one of them will deal with logistics and military equipment and another will help protect sea lines of communication between North America and Europe. The new command structures are necessary to respond to all the current threats – terrorism, cyber attacks, and Russian aggression.
"After the end of the Cold War, NATO member states cut defense expenditures in an attempt to develop a partnership with Russia. But after the illegal annexation of Crimea in 2014 and the continued Russian destabilization of eastern Ukraine, we can see that Russia is more and more assertive," Stoltenberg admitted. "We do not want a new cold war or a new arms race. But one must be strong and predictable. At the same time, we are prepared to work for improved relations and a dialog with Russia."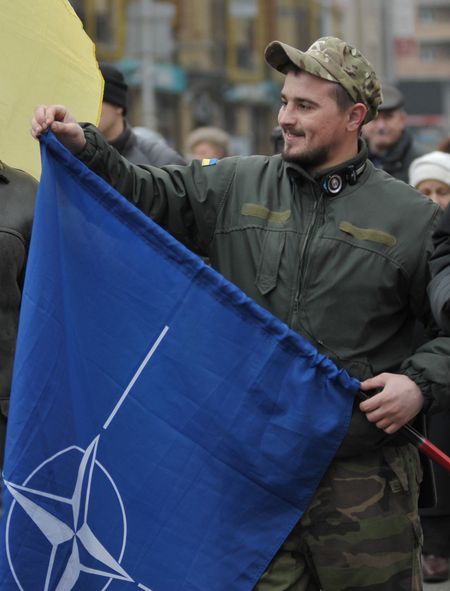 Photo by Ruslan KANIUKA, The Day
As the meeting drew to a close, the ministers agreed that the new command structure of NATO must protect sea lines of communication and improve military logistics. They also pointed out the necessity of establishing a Cybersecurity Center at the Supreme Headquarters Allied Powers Europe (SHAPE) in Mons, Belgium. In June this year, ministers of defense will make decisions on the time of establishing the new commands and increasing the staff.
MORE FINANCIAL CONTRIBUTIONS AND, HENCE, CAPABILITIES
This year eight NATO member states are going to allocate at least 2 percent of GDP for defense, and the number of such countries will increase to 15, the Alliance secretary general announced. Besides, the organization's allies agreed to make increase expenditures for the acquisition of military equipment and the expansion of NATO's missions and operations. In other words, the Alliance is getting more contributions, money, and, hence, capabilities.
"Since 2014 we have seen three years of increasing defense spending across Europe and Canada, amounting to an additional 46 billion US dollars. In 2014, only 3 Allies spent 2 percent of GDP or more on defense. This year, we expect 8 Allies to meet or exceed the target. And by 2024, we expect at least 15 Allies will spend 2 percent of GDP or more on defense. Besides, European Allies and Canada invested 19 billion US dollars more on major equipment over the last three years. By 2024, 22 Allies are expected to invest 20 percent or more of their defense budgets on major capabilities. Almost all the Alliance member states are going to maintain or increase their contributions. So, we are stepping up in all the three areas – cash, capabilities, and contributions," Stoltenberg noted.
At the same time, the secretary general stressed that the establishment of a European defense alliance would in no way weaken the positions of NATO, for the EU is doing so to reinforce its own defense capability, rather than seek an alternative to NATO. He welcomed plans to intensify cooperation between the European companies that manufacture military equipment because this serves the interests of all NATO members.
RUSSIA SHOULD BE TRANSPARENT
The North Atlantic Alliance calls on Russia to be more transparent in the question of deploying its Iskander tactical missile systems in Kaliningrad oblast.
"Russia stated many years ago that they planned to deploy Iskanders permanently in Kaliningrad. We have seen some deployments there before, but… we have seen no permanent deployment so far. But we have seen that Russia is investing in infrastructure and that they are strengthening their military presence in Kaliningrad, but whether they have now deployed Iskanders is something I won't comment on," the Alliance leader said. "I will only call on Russia to be transparent."
Moscow reacted immediately. Yury Shvytkin, chairman of the State Duma Defense Committee, said in a comment to RIA Novosti that he thinks that it is impossible to exchange these data because the Alliance is not taking "real" actions to have a constructive dialog, while Russia, by contrast with the US, is not violating the norms of international law.
On the whole, NATO says that, in spite of misunderstandings and challenges, they are prepared for a constructive dialog with Russia, particularly in the question of illegal annexation of Crimea and militarization of the Black Sea and the Baltic borders. But, with due account of high tension and provocative actions (interception of warplanes, holding military exercises on the border), NATO is forced to build up its forces in order to show that Russia must not remain unpunished for action outside its territory.
"A DEMAND RATHER THAN A COMPROMISE"
The Ukraine-NATO Commission (UNC) failed to hold a session, scheduled for February 14-15 as part of the ministerial meeting, because Hungary, a NATO member state, imposed a veto. This is the second time Budapest blocked a ministerial meeting with the participation of a Ukrainian representative. The Hungarian government explains that it thus pressures Ukraine into revising the language clause of the Law "On Education." Commenting on the current situation in the Ukraine-Hungary relations, the NATO secretary general called on both countries to reach a compromise and resolve the language problem at last. "I have spoken both with Prime Minister Viktor Orban and President Poroshenko. I have urged them to try and find a solution to this issue. This is about to find a balance between minority rights to learn their minority language, but also of course that every state has the right to also make sure that they learn the state language. There is a proposal now on the table from the Venice Commission, and I encourage Ukraine to closely look at these recommendations," Stoltenberg said.
Meanwhile, Ukrainian politicians emphasize that Hungary's blocking of the Ukraine-NATO Commission plays in the hands of Russia. Vadym Prystaiko, the head of Ukraine's mission to NATO, who attended the ministerial meeting, says that Hungary's demands amount to direct pressure on Ukraine. The diplomat points out that the current situation irritates not only the Ukrainian leadership, but also NATO, for representatives of the Alliance member states expected Ukraine's defense minister to visit the headquarters. They wanted to hear about the situation in eastern Ukraine and reforms in the defense sector.
"This year, as you know, there will be no meeting of the Ukraine-NATO Commission at the level of defense ministers. We are displeased with this because the last meeting in this format was held as far back as 2016. Blocking the participation of Ukraine, the Hungarian side demands juridical guarantees that the Law 'On Education' will not be implemented, which I think is direct pressure on Ukraine. It is a demand, rather than a compromise. On our part, we suggest resolving this problem within the framework of the existing mechanisms via the Annual National Program 2018. Moreover, we guarantee taking into account recommendations of the Venice Commission," the ambassador says. "I hope we will manage to resolve, by a joint effort, this problem which irritates NATO as much as Ukraine. I think you know that 11 NATO ambassadors have sent a letter to their Hungarian counterpart, in which they expressed their failure to understand abusing the principle of consensus in this organization."
Prystaiko expressed a hope that the veto would be lifted shortly and Ukraine's defense minister will take part in the UNC meeting scheduled for June 2018. He is also convinced that there will be a meeting of the Ukraine-NATO Commission at the level of foreign ministers in April. And the president of Ukraine is going to meet the NATO secretary general in a few days' time. The two dignitaries will negotiate the possibility of resolving the problem caused by Hungary's veto and of the commission's meeting during the NATO summit in July this year.
NATO MEMBERSHIP WILL DEPEND ON REFORMS
NATO is saying that Ukraine can be put on the list of the countries that aspire to join the Alliance on condition that it successfully carries out reforms on the way to Euro-Atlantic (or European) integration. Now the relations are based on two points: NATO supports Ukraine politically by organizing meetings with its topmost leaders, as well as continues to render active practical assistance which it began to do when war broke out in the Donbas. NATO experts and advisors work in various agencies, including the Ministry of Defense, offering consultations and recommendations about logistical support, medical and psychological rehabilitation, etc.
"We provide both practical and political support to Ukraine. We will continue to provide support and we will continue to work closely with Ukraine. The focus now is on reforms. And I welcome that Ukraine has so clearly stated that their focus now is on reform… The issue of membership will be assessed on the basis of the progress Ukraine is making as part of carrying out these reforms," Stoltenberg said.
NATO officials say they are satisfied with the pace of reforms in Ukraine, and, with due account of long-term prospects, the Alliance will be expanding its representation in Kyiv, thus hinting that the door to NATO remains open.
***
Apparently, the ministerial meeting in Brussels signals a new phase of NATO's development – distribution of duties and drawing up of a detailed plan of headquarters' performance. Ukraine also hopes for a new stage of relations with NATO. On February 14, the first day of the ministerial meeting, the government of Ukraine adopted the National Program of Cooperation with NATO. What is more, for the first time in the past 7 years, the government allocated funds for its implementation. Ivanna Klympush-Tsintsadze, Vice Prime Minister for European and Euro-Atlantic Integration, wrote on her Facebook page that this document will continue to be updated and improved in order "to reach the level of a strategic document which would really assist us in achieving the state's strategic goal – to be prepared for accession to the Alliance." The 2018 program comprises 444 events with participation of 58 ministries and agencies, as well as local bodies of government and other institutions and organizations. The document has now been submitted to the president of Ukraine for signature.